Mill Master Hopper
Regular price $0.00 $67.95 Sale
NB: This is a HOPPER only! Mashmaster Mini Mill sold separately!
Mill Master Hopper from Mash Master is designed for use with Mill Master Mini Mills (bother older knurled and new model fluted mills).
The Mill Master Hopper holds about 5 kg (11 lbs) of grain comfortably.
Made from high-quality 1.5 mm aluminium sheet metal that will not rust or bend or break unlike plastic equivalents. There is no need for a protective plastic lip because the Mill Master hopper is not made from razor thin galvanised sheet metal.
The built in aluminium finger guard that also disperses the weight of the grain ensure a constant feed from start to finish delivering a more consistent crush.
Comes as a flat pack, for efficient low cost shipping and it is easily assembled at home following the instructions below:
---
NOTE: The Hopper does NOT include the mill pictured.
Slideshow
Other top rated products
4.9 star rating
11 Reviews
Thank you for posting a review!
We value your input. Share your review so everyone else can enjoy it too.
Thank you for posting a review!
Your review was sent successfully and is now waiting for our staff to publish it.
Nice
Review by Hayden N. on 23 Apr 2020
review stating Nice
Nice piece of kit!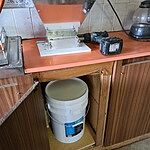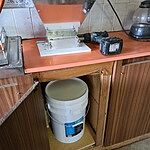 On Mill Master Hopper
Mill set up
Review by Chris S. on 22 Nov 2019
review stating Mill set up
Very impressed with the mill master and hopper. Easy to assemble hopper. Pleased with the quality Coupled the mill to a ozito paint stirrer from Bunnings, just had to file the keyway into the drill thread and it fits straight on. Switched it on, 5 kilo of pale malt and ran through in a 2 or 3 minutes while I carried out some quality control on my last brew.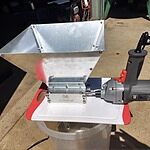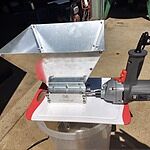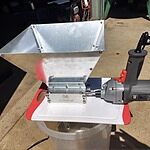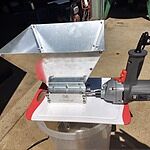 On Mill Master Hopper
You Get What You Pay For
Review by James C. on 13 May 2019
review stating You Get What You Pay For
I purchased my first grain mill for cheap from a competitor and I can say I was bitterly disappointed. The other mill kept jamming, wouldn't grab the grain or feed through smoothly and on the widest setting was milling far too fine. So I went back to the internet and found the reviews for the Mill Master mini-mill to be the most favourable. I ordered the mill and hopper and have to say that it is worlds apart. No problems whatsoever. Milled perfectly the first time. The hopper feeds it well and has the finger guard/grain disperser which works well. Much more happy now.
On Mill Master Hopper
Mill Master Hopper.
Review by Gareth D. on 25 Feb 2019
review stating Mill Master Hopper.
Excellent quality. Easy to put together. Every grain slides into the mill.
On Mill Master Hopper
Good quality hopper
Review by Tom U. on 1 Feb 2019
review stating Good quality hopper
Sturdy construction, easy to assemble and clean. Good hopper
On Mill Master Hopper